How-to Choosing Machine-Embroidery Threads
INTRODUCTION
Congrats on getting your first embroidery machine! Embroidery is fun and easy if you are using the correct supplies. As experienced embroiderers already know, there are a lot of threads to choose from and it can be very confusing to someone just starting out. This guide will help you pick the best embroidery thread to use on your machine and describe the different types available.
WEIGHT AND STRAND COUNT
While it may not seem like a huge issue, the weight or size of your thread plays an important role in the final outcome as well as its compatibility with the fabric you are embroidering on. The rule of thumb here is simple: the higher the number, the finer the thread. Different types of threads (explored further below) will usually have different limitations on how fine or heavy they can go. For example, cotton threads are available up to 100, whereas rayon typically does not go higher than 40. Threads also generally consist of multiple strands being twisted together. To find out the strand-count you will need to look at the number next to the weight, which tells you how many strands. For example, 80/2 would mean that the weight is 80 and the thread consists of 2 strands.
When choosing the size of your thread, it is best to consider the fabric you are embroidering on. What size threads were used? What kind of fabric is it? Is it stiff or flexible, and does it stretch? Finer threads (60 and up) are best for lighter or more delicate materials. Thicker threads are best suited to heavier duty pieces like upholstery. Another important thing to note is that different machines are suited to different types of strands, so as a final step before starting your embroidery, make sure that your thread is compatible with your machine.
TOP THREAD AND BOTTOM THREAD(BOBBIN THREAD)
If you take a close look at a garment's hem, neckline, or pockets, you'll find a row of uniform stitches both at the top and the underside. as the name suggests, a top thread normally appears on the garment's upper side while the bobbin thread shows underneath.
Bobbin thread is a convenient choice for bottom thread, they are designed specifically for use with machine embroidery, bobbin thread is a lightweight thread that has the durability of rayon and polyester. It can easily withstand the rapid movements of your machine. Again, bobbin threads are very versatile and come in a variety of different sizes. It is often recommended to pair your bobbin threads with another complimentary thread of the same weight.  
As for top thread, there are different embroidery threads to choose, see more details below.
EMBROIDERY THREAD OF DIFFERENT MATERIALS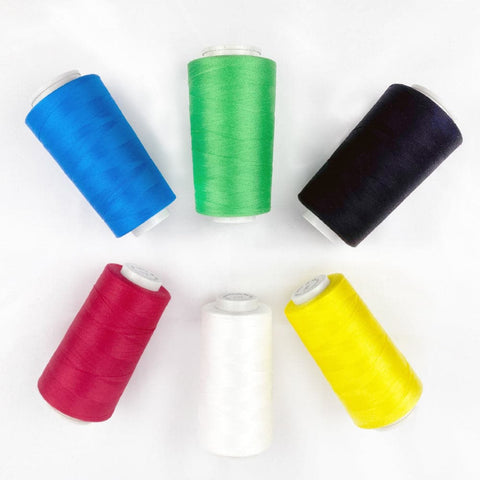 Polyester embroidery thread
Popular and economical for embroidery, polyester thread provides an effect similar to rayon and comes in various colors. It won't shrink, fade, or bleed, so it's great for children's clothes. Rayon thread has a slightly higher sheen than polyester thread, but the two are interchangeable and perform similarly without breaking or fraying. When they're combined in a single design, it's hard to tell the difference.
Polyester thread is economical and colorfast, even holding up to chlorine bleach. Brands include Coats America Sylko, Isacord, Janome (acrylic), Madeira Neon, Mettler Poly Sheen, Robison-Anton Polyester, Sulky Poly-Deco, and YLI Ultrasheen (acrylic).
This thread is the most popular choice overall because of its attractive high sheen, widespread availability, and consistent trouble-free performance, holding up to high-speed stitching without breaking or fraying. Rayon thread comes in a wide range of solid and variegated colors, as well as in a new "twist" thread composed of two or more solid colors twisted together to form a single strand, which adds automatic shading and dimension to flat designs. Most rayon threads are available in a standard 40 wt. and a thicker 30 wt. (in terms of thread sizing, the higher the number, the finer the thread).
Rayon thread is readily available in standard size 40 wt. and a thicker size 30 wt., as well as in a wide range of colors. Brands include Coats & Clark, C & C ColorTwist; The Finishing Touch; Gütermann; Isafil; Madeira; Megasheen; Mettler Silky Sheen; Mez Alcazar; Robison-Anton; Scansilk; Signature; Sulky; and Sulky Ultra Twist.
Cotton thread is often overlooked for use in automatic embroidery machines. However, it performs beautifully and has a lovely, soft sheen. It's available in weights up to a very fine 100, which is considered heirloom quality. But finer threads tend to be weaker, so 30- or 50-wt. cotton thread is more appropriate for machine embroidery because it's stronger and provides better coverage.
When buying cotton thread, choose sizes 30 wt. or 50 wt. for strength and sufficient coverage. Brands include Aurifil, Madeira Cotona, Madeira Tanne, and Mettler 100% Embroidery Cotton
Silk absorbs dyes more brilliantly than all other fibers, and is truly the aristocrat of specialty threads. It combines the strength (but not abrasiveness) of polyester and the stability of cotton, and sews smoothly without breaking. It has a distinct sheen unmatched by any other thread. Silk threads are available in a wide range of sizes, but the 30 to 50 wts. are the most appropriate for machine embroidery. They are more costly and not as readily available, but well worth considering, especially for embroidering on luxurious fabrics.
Silk thread is the top choice when embroidering on silk and other luxurious fabrics. It is made by Janome, Tire, and YLI Kanagawa.
Metallic and mylar embroidery threads
Metallic and Mylar threads are less common thread types, often used more to create accents or embellishments. They require a specific type of needle. This is because they do have a tendency to break, especially when used with a high speed embroidery machine, so extra attention needs to be given to these threads. Slowing down the stitching speed, lowering the tension and using a larger topstitch needle all help alleviate problems the typically occur when using metallic thread. However, for those who are looking for a little something extra, they add a sparkle to your designs like no other thread, and are well worth the effort if you are looking for a little glamour!
SPECIAL-USE EMBROIDERY THREAD         
These threads are often acrylic or woolen and are most known for their unique aesthetic. These are used primarily for costume purposes as opposed to utility, with many special effect threads containing glow-in-the-dark technology or changing colors under different lights. These types of thread are probably the hardest to come by, and you would most likely need to place an order with speciality stores online.  
Temperature Changing Embroidery Threadwill show different colors at a certain temperature. For example, if you touch the red temperature changing thread with your hand, the color will change to white. When the ambient temperature is higher than 31°C, the thermosensitive colorant in it will change color. It is a novel and unique yarn which makes your product better.
Light-Sensitive Embroidery Threadactually changes color in the sunlight. An extraordinary new thread designed and tested for today's high-speed embroidery machines. This new technology gives the opportunity to have embroidery designs change from one color to another after exposure to the sun or any UV light sources.  
Glow In The Dark Embroidery Thread is a polyester thread that has been treated with a brightly glowing pigment which absorbs light and glows for several hours after being charged. If a glow-in-the-dark thread is solely made from polypropylene, it will be weak and untwist easily.  Our thread lines that glow in the dark are made of a special type of polyester polymerwhich is not easy to break.
Reflective Embroidery Threadis new single-colour thread that reflects light in the dark and adds a surprise effect and sparkle to every piece of embroidery.Its special structure consists of a polyester core around which a polyamide foil with glass beads is wrapped. Reflect is durable and easy to process on industrial embroidery machines by using standard needle sizes.
Variegated threadsare available in hundreds of color combinations. With these threads, the colors change incrementally. Some are dyed in subtle repeats while others are bold and distinct. Variegated thread is ideal for patterns and designs where tone-on-tone is desirable.
Clear nylon monofilament threadsare useful for invisible quilting and applique.        
CONCLUTION
With all the different threads out there today, you will no doubt be able to find one that suits your needs! Remember that finding the right thread is just as important as finding the right needle and can make or break your final embroidery project, so it is key to always choose the best materials and tools for your specific purpose. However, as usual, embroidery is not always about getting things perfect in one go! Be prepared for some fairly extensive trial and error, but learning to embrace the experimental part of embroidery is one of the best parts!