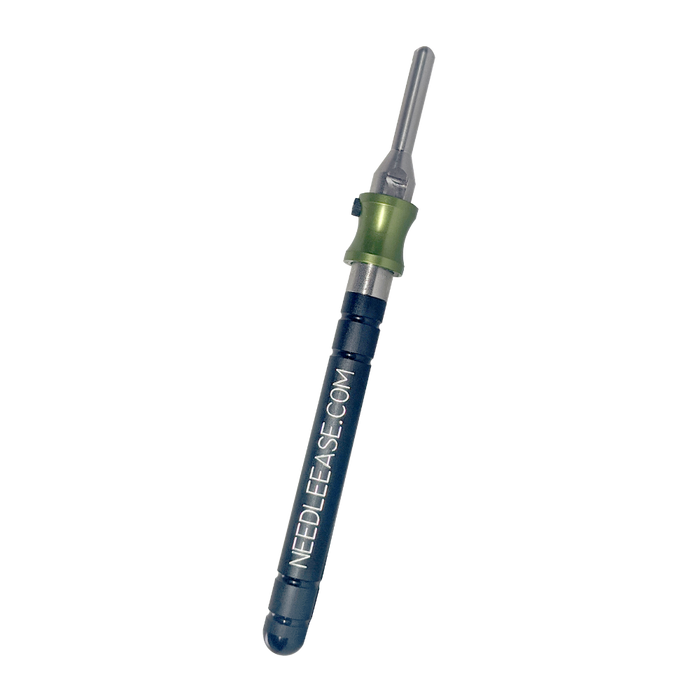 Needle Ease for Effortless Chaning Embroidery Needles Sent In Random Color
Original price
$79.00
-
Original price
$79.00
This revolutionary tool helps you make sure that your embroidery needles are properly oriented every time you change them. The Needle Ease tool features a trademarked "click," assuring you that your needle is facing forward every time. Remove the guesswork while simplifying the task of changing your needles. Needles need to be changed for certain specialty threads and when they become worn.   The average lifespan of a running embroidery needle is 8 hours. 

Features:
Needle Ease
Needle changing tool
100% brushed stainless steel
American made
Lifetime guarantee
Patented
How to use:
Hold the Needle Ease with the "NEEDLEASE.COM" logo and black set screw facing up. Pull back on the colored collar with one hand. With your other hand, slide your new needle down into the slot at the tip of the tool. Release the sleeve and slowly rotate the new needle until you hear or feel a "click." Once you do, your new needle is now facing forward and you can install the needle into your machine.* To release the Needle Ease, pull back on the collar and slide it off of the needle.
Please note that the pull back collar on your device may arrive with a different color.
*Helpful hint:
Hold pressure with your thumb on the shank of the needle to hold it against the side of the slot as you spin the needle.